Here's how to watch ABC's live stream if it's not available in your area. Live stream ABC from anywhere — not just the "available areas."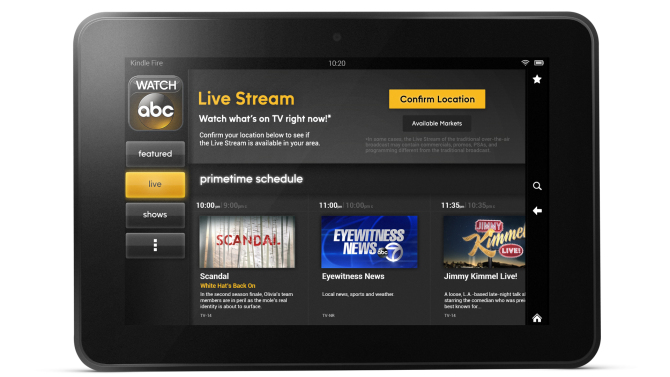 Updated for 2023
Want to watch ABC's live stream, but find that it's not available in your area? Then read on. You can get access to the ABC live stream from anywhere. Here's what to do.
The ABC live stream is available only in a handful of US cities.
To watch the ABC live stream from anywhere — either on ABC.com or with the Watch ABC app — you need to bypass their location detectors. The way to do this is with a VPN. A VPN will route your connection through a secure server, thus "tricking" ABC.com or the Watch ABC app into thinking you're in an available area to watch its live stream.
As long as you're connected through a VPN, you can gain instant, unlimited access to live stream all of ABC's programming. That includes hit shows like 'The Bachelorette' and 'The Bachelor,' plus live sports like NFL, NBA, NCAA games, and more.
NordVPN is the best VPN we've found to unblock ABC from anywhere. First, it comes with a 30-day money-back guarantee. So if you just need access for a short time, you can cancel and get a refund. It's a favorite for streaming TV because it delivers a five-star service all around. Plus, it has the fastest streaming speeds (other VPNs can slow your connection to a maddening crawl), super easy, works on any device, and — even better — just works with no hassle. As a sweet bonus, it has the best deal.
Best VPNs To Unblock ABC
Using a VPN has many benefits. First, it's not only ABC's live stream you get access to. NordVPN works to unblock virtually every website in the world: NBC, CBS, FOX, plus tons of free UK TV channels like the BBC and ITV. It also unblocks Netflix, and other streaming services (Amazon Video, Hulu, Sling TV) so you can watch while abroad. And it's great for streaming live sports on sites and services around the world. A VPN also prevents ISP throttling. And it's a highly recommended online privacy and security tool to prevent data theft, spying, and tracking. More about how a VPN works and what you can do with it.
After you sign up for a 30-day trial, download the NordVPN app for the device (or devices) you want to use to watch the ABC live stream. They have great apps for every device: iOS, Android, Mac, Windows, and more. You can use up to 6 devices at once with a single NordVPN account.
Now, use the NordVPN app to connect to a secure server. Once you're connected, you'll be using the internet anonymously. ABC.com won't be able to detect where you're located, and therefore can't block you.
STEP 4) Watch ABC's live stream in your area, no matter where you are!
Voila! That will let you watch ABC live stream even if it's not available in your area. You can now live stream all your favorite ABC shows, sports, and specials. After you connect to a NordVPN server, just go to abc.go.com/watch-live, or launch the Watch ABC app, and start enjoying the live stream. You'll immediately have unlimited access after you sign in with your TV provider.
Some tips: Clear the cookies on your device/computer after you connect to a NordVPN server. If you have any location services on your device, disable those.
Hopefully, ABC will make their live stream available in more areas, and soon. But, until then, this workaround is a simple solution. I hope you enjoy watching ABC online as much as I do.